DoorKing Maximum Security Gate Openers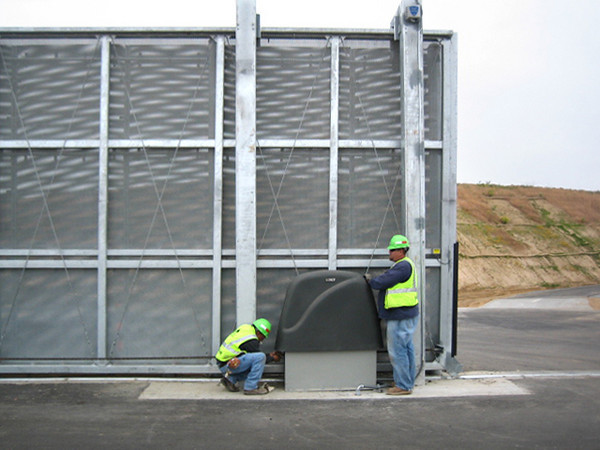 DoorKing, Inc., also known as "DKS", was established in 1948. They are the country's leading manufacturers of telephone entry systems, and vehicular gate operators. As well as parking control products and access control systems. Additionally, these products can wear the "Made In America" label.
Operators are designed to operate very heavy vehicular slide gates in limited (Class III) and restricted (Class IV) applications only. These operators must never be used in applications serving the general public. The 9500 series uses a high tensile steel alloy roller chain as the pulling medium, which is immune to slippage and un-even terrain and simplifies installation. These operators include a speed control module that allows the user to set the speed of the gate and have a slow-start and slow-stop function as well.
HEAVY DUTY GATE OPERATOR'S APPLICATIONS:
Military Facilities - Government Buildings - Airports - Seaports - Border Fences - Prisons - Loading Docks - Factories Infrastructure Facilities (Water Treatment, Chemical, Power Plants, Dams, etc.) or for any application where a high degree of perimeter security must be maintained.

*** Protect your investment:***
Purchases of gate openers from unauthorized resellers VOID MANUFACTURER WARRANTIES in most cases. Quality products need quality installation support and technical support after the sale. Most internet resellers on discount sites such as eBay, Amazon, and others cannot provide that service. This voids a large part of your investment, the warranty. Shop with confidence that all warranties remain fully intact when you purchase from Gate Openers Direct.
Refine Search
Telephone Entry - DKS provides a full range of telephone entry systems and accessories to meet your specific application requirements.
Access Control - Whether you need a complex access control system, or a simple stand-alone device, we have all the products to meet your needs.
Parking Control & Barrier Gates- DoorKing offers a complete line of products to control vehicular traffic into your parking areas.
Gate Operators - Perfect for residential, commercial, industrial and maximum security applications
There are no products to list in this category.