UL 325 Gate Safety Standard
You should never install, or have installed on your property, a vehicular gate operator that does not carry the "MARK" of an NRTL such as ETL or UL. You should also be aware that NRTL's do not "approve" or "certify" products that they test. Manufacturers that use this terminology are incorrect in its usage. When a product is tested by an NRTL, and that product is found to be in compliance with the safety standard, then that product is said to be "LISTED" and the manufacturer receives a "MARK" and an "Authorization to Label" from the NRTL.
The standard to which vehicular gate operators are manufactured and tested to is U.L 325 - Underwriters Laboratories Inc., Standard for Safety: Door, Drapery, Gate, Louver, and Window Operators and Systems. In addition to the 325 standard, vehicular gate operators must also be tested to U.L. 991 - Tests for Safety-Related Controls Employing Solid-State Devices.
UL 325 is the Underwriters Laboratories (UL) standard for Door and Gate Operators, as well as other products—to which, LiftMaster products are tested. Since 2010 all commercial door operators bearing the UL Label must continuously monitor safety devices such as photo eyes and/or sensing edges, otherwise the operator must be limited to constant-pressure-to-close operation. Since 2000, external entrapment protection devices must be added to gate operators to meet these standards. Gate operator designs will be additionally required to continuously monitor entrapment protection devices by January 2016. Your installer will recommend correct equipment based on your system. Manufacturers of Listed and Labeled operators are subject to quarterly inspections at their manufacturing facility by UL or ETL inspectors to ensure that the operators being manufactured are in compliance.
Slide gate operators require two external entrapment protection sensors to operate, one in each direction of travel. Sensors can be either contact (edge sensor) or non-contact(photo eye).
Swing gates require two external entrapment protection sensors, either contact (edge sensor) or non-contact (photo eye), unless there is no entrapment risk in one direction.
The photo eyes or edge sensors you install must be approved for use with the specific gate operator installed. Sensors proven acceptable are described in the gate operator's installation manual.
Use tested and approved photo eyes and edge sensors.
UL 325 sets the MINIMUM standard of safety. You must also verify that the gate site complies with ASTM F2200. Survey site, usage class, gate type and other conditions. Design and install appropriate external entrapment protection sensors that address all potential entrapment zones.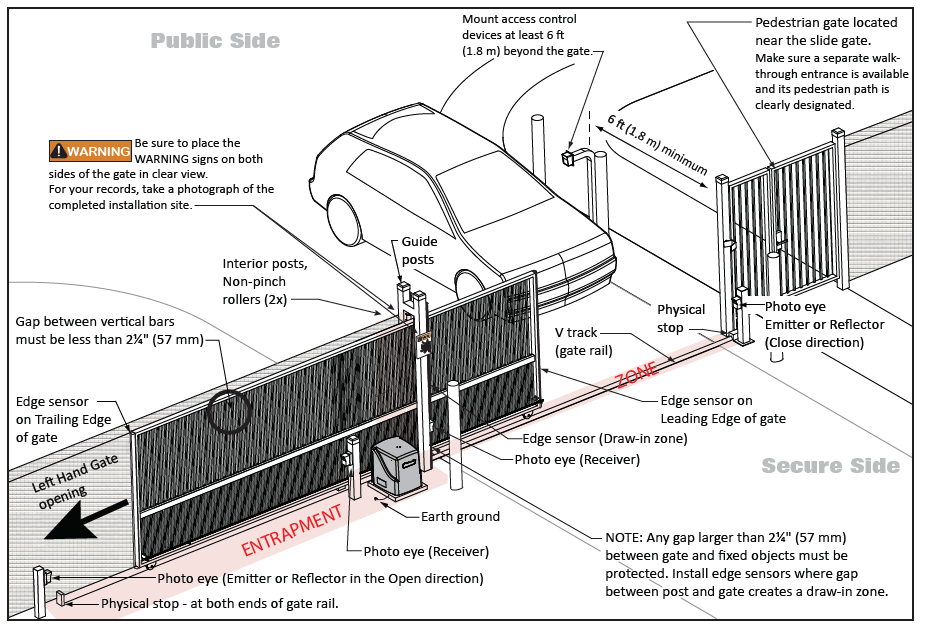 Featured