FAAC Barrier Gate Openers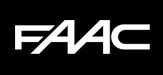 Gate Openers Direct is proud to be an authorized distributor of FAAC Barrier Gate Openers.  FAAC Barrier Gate Openers offer cutting edge technology which will be perfect for your barrier or parking applications.  FAAC barrier gate openers are hydraulically powered with a hydraulic pump and drive motor. This provides an advantage in cold weather.  When using arctic hydraulic oil these barrier gate openers continue to perform where mechanical gate openers may fail.  Additionally, these gate openers are well suited for high cycle rates.  They are made to work non-stop.  These are ideal barrier gate openers with their removable housing, flexibility and their full control of traffic.
Being an authorized distributor is a big deal.  These means you get the factory warranty when you purchase with Gate Openers Direct.  Additionally, when you purchase with us you will get Lifetime Tech Support with your equipment.  
Refine Search
FAAC Swing Gate Openers
FAAC Slide Gate Openers
Featured