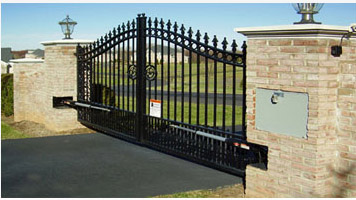 Gate Openers Direct carries a large selection of Swing Gate Operators. A swing gate opener opens a gate inward or outward from a hinge point. Swing gate openers come in three major types: above ground ram arm, above ground articulating arm, and underground gate operator. A ram arm is located on the gate and post and uses a piston that travels in and out. An articulating operator is a box style that sits off to the side and has an arm extending to the gate. Underground operators use the hinge and operate the gate via a link arm.
One item to consider is how often your gates will open and close. Usually, it is a minimal cost to upgrade to a heavy-duty gate opener or operator.
We carry trusted brands of swing gate openers such as Nice Apollo, Doorking, Liftmaster, Elite swing gate operators, FAAC swing gate operators, Linear / OSCO, Ramset, and more. Please browse through our list of swing gate openers.
Why buy from Gate Openers Direct? First and foremost, experience and technical support. This may seem like fluff, but experience can't be bought by new "box pusher" internet distributors. Technical support knowledge will translate into serious money over the life of any commercial barrier gate opener. Especially, if you have to pay someone to come to your location every time there is a glitch or problem. Anyone who has ever had a service tech hand them a bill for hundreds of dollars only to discover later that it was probably something they could have handled themselves, knows all too well how much money a "friend in the business" is worth. Let us be your friend, Gate Openers Direct!
As an authorized distributor of swing gate openers (swing gate openers/swing gate motors), our products carry an authentic factory warranty. If you have any sales or technical support questions give us a call at 877-688-GATE or contact us by e-mail.