When it comes to communicating with guests at the gate there is no better way than with Doorking Telephone Gate Entry Systems. Doorking has telephone entry systems for residential, commercial, and communities. Their systems are easy to program and control and some can even be controlled by your cell phone.
The 1830 series (1833, 1834, 1835, 1837, and 1838) are PC programmable systems and include the DoorKing Remote Account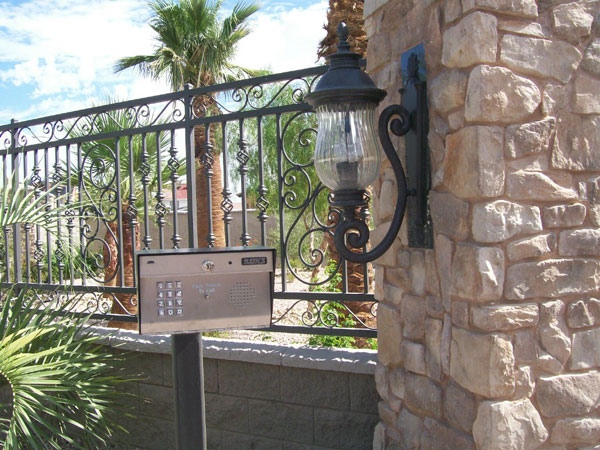 Manager software. 1802, 1803, 1808, and 1810 systems are ideal for basic stand-alone telephone entry control. The 1812 Classic and Plus, 1816, and 1820 Telephone Intercom Systems provide two-way communication and control of a door or gate through a resident's telephones without the need for Central Office phone service.
The Doorking Access Plus line (1808AP, 1810AP, 1812AP, and 1838AP) combines the essential features of DKS' most versatile solutions with the ease and accessibility of computer programming and control. The powerful DKS Access Plus Account Manager Software is included. This product line is a true "hybrid" access control and telephone entry system: It can be used as an auto-dialer telephone entry system, a "no phone line" telephone intercom system, or as a card access control system. Ideal for residential, small apartment, condominium, gated community, and business applications.
Gate Openers Direct is an authorized distributor of all Doorking products. This means you get Doorking's factory warranty and Gate Opener Direct's lifetime Tech service. These telephone gate entry systems work well with Doorking slide gate openers, DKS swing gate openers, and Doorking barrier gate operators. Get yours today!
Refine Search
Access Control - Whether you need a complex access control system or a simple stand-alone device, we have all the products to meet your needs.
Parking Control & Barrier Gates- DoorKing offers a complete line of products to control vehicular traffic into your parking areas.
Gate Operators - Perfect for residential, commercial, industrial, and maximum security applications